Data Entry Courses
Data Entry Courses for Data Entry Jobs
Data entry jobs require staff to enter data into computer software programs like Microsoft Office for office support jobs (mainly Word and Excel) and accounting programs like (Xero, MYOB & QuickBooks) for accounting based data entry roles.

The tasks will be included in the one job ad description and that can vary from employer to employer and also depend on the level of complexity of the data. Some data entry jobs require high speed and accuracy as well as good analytics and checking for anomalies.
See some typical data entry job ad descriptions and job applicant requirements.
If you are re-entering the workforce or changing careers and want an office and admin based job you'll need good computer and data entry skills and we'd love to help you.
Data Entry & Word Processing
The most common program for data entry work is Microsoft Word because it is used for creating all the different document files that are used in the office, from letters to proposals and reports.
The Data Entry & Microsoft Word Beginners Course gives you a solid understand of the use of keyboard characters and how to get them where you want them on a document file. Includes creating documents from scratch as well as editing existing documents.
See Data Entry & Microsoft Word Beginners Course
Get a FREE sample
Choosing a training course provider is a big decision and you need to be comfortable that the company you choose will help you learn in a structure method using relevant examples that help you learn.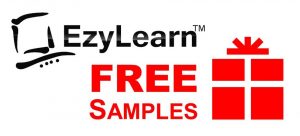 EzyLearn has been crafting courses since the early 1990's, evolving as technology evolves to ensure you get the best experience – and we guarantee it.
While you are here please accept a free sample to get to know us and our training style & support.
Get our FREE Data Entry Training Courses now.
Here are the data entry and Microsoft Office training courses that will help you get a data entry and office assistant jobs.